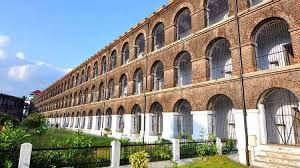 Our representative will pick you up from the airport and drop you at your hotel. From this point your amazing journey for the incredible Andaman will begin. We know you will be very excited and eager to experience the scenic beauty of the exotic island. We will be equally enthusiastic in welcoming you to the emerald beach destination.
Cellular Jail (Port Blair)
Cellular Jail houses the rich history of Andaman and is a must see in Port Blair. It is a colonial prison built by Britisher's to exile Indian freedom fighters and political leaders. Jail has museums that reflect the sufferings and hardship of the prisoners. The place has the pride & patriotism in the air and will certainly make you enthusiastic.
Corbyn's Cove (Port Blair)
Carbyn´s Cove Beach- one of the most picturesque, coconut palm fringed beach, It is 7 km away from Port Blair town and it is an idle beach for Swimming and Sun-Basking. The beach is very famous for water sports activities and is a wonderful place to relax at. This beach has all the arrangements like rest chairs, changing rooms, restaurants etc.
Cellular Jail Light And Sound Show
Cellular Jail for live sound and light show. Here feel the freedom struggle of Indian history. The show will fill your heart with patriotism. The show lasts around 30 mins and is conducted in both English and Hindi languages.
Overnight Stay in Port Blair